On Wednesday, October 13, MHS CTSO will be hosting our 4th annual Trick-or-Treat So Others Can Eat community service project! On this night, we trick-or-treat around Marysville and surrounding communities for non-perishable food and personal care items for the Marshall County Helping Hands Food Pantry.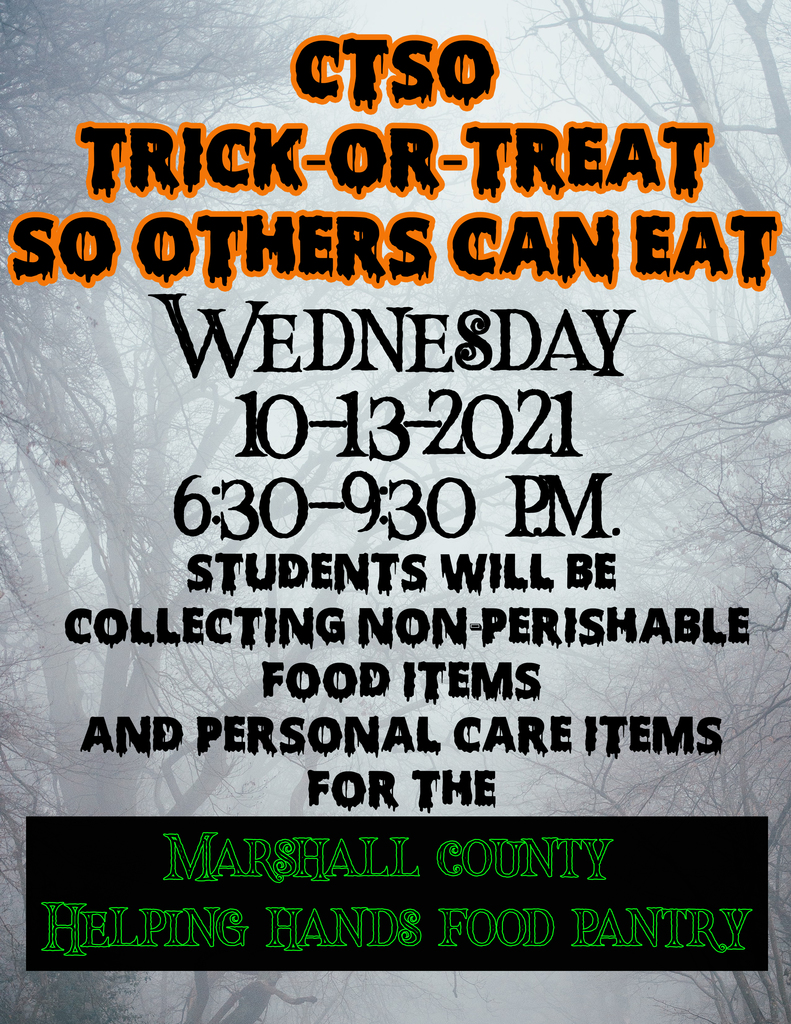 Today is the day! Homecoming parade at 2:00. Line up starts at 1:30! Click the following link for line up order and other details.
https://5il.co/zvh5
Go Bulldogs!!

LOCATION CHANGE: The MHS Homecoming Parade will be held October 1st at 2 p.m., followed by a pep rally at the STADIUM.

There will be a soft serve ice cream benefit for Chase Downard at MJSHS on October 1 from 6-8 p.m. Free will donation.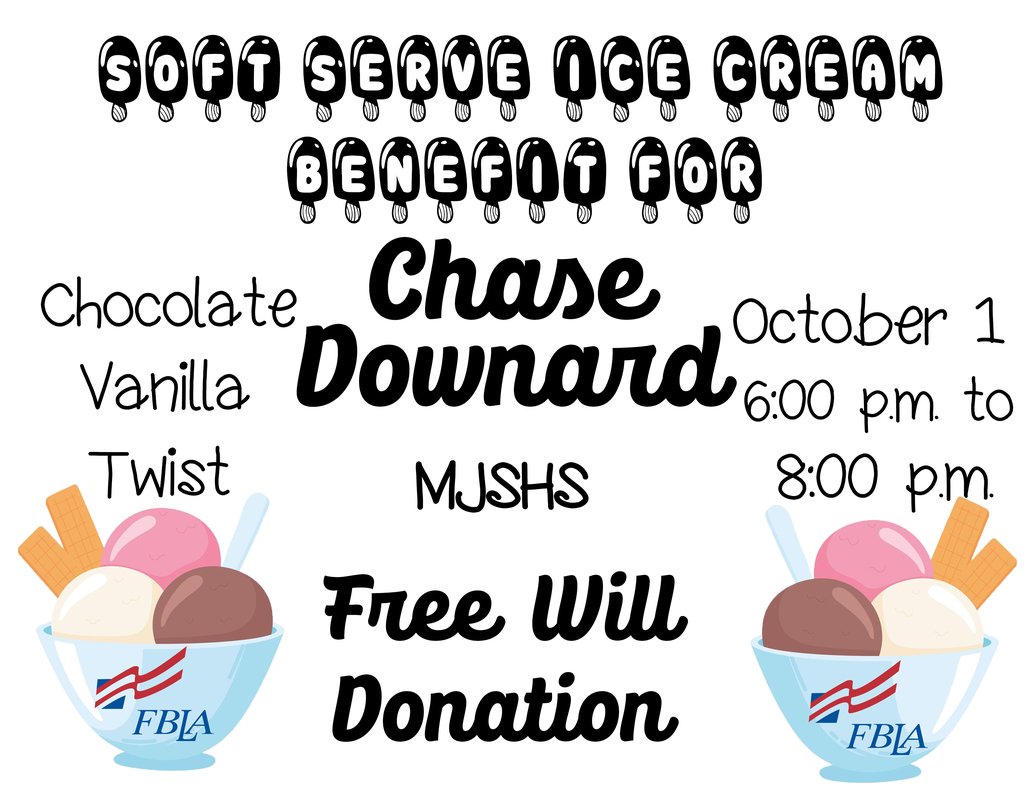 Flu Shots will be available October 7 from 7:30-8:30 a.m. at MJSHS and October 11 from 1:30-2:30 p.m. at MES. See the attached flyer for more information.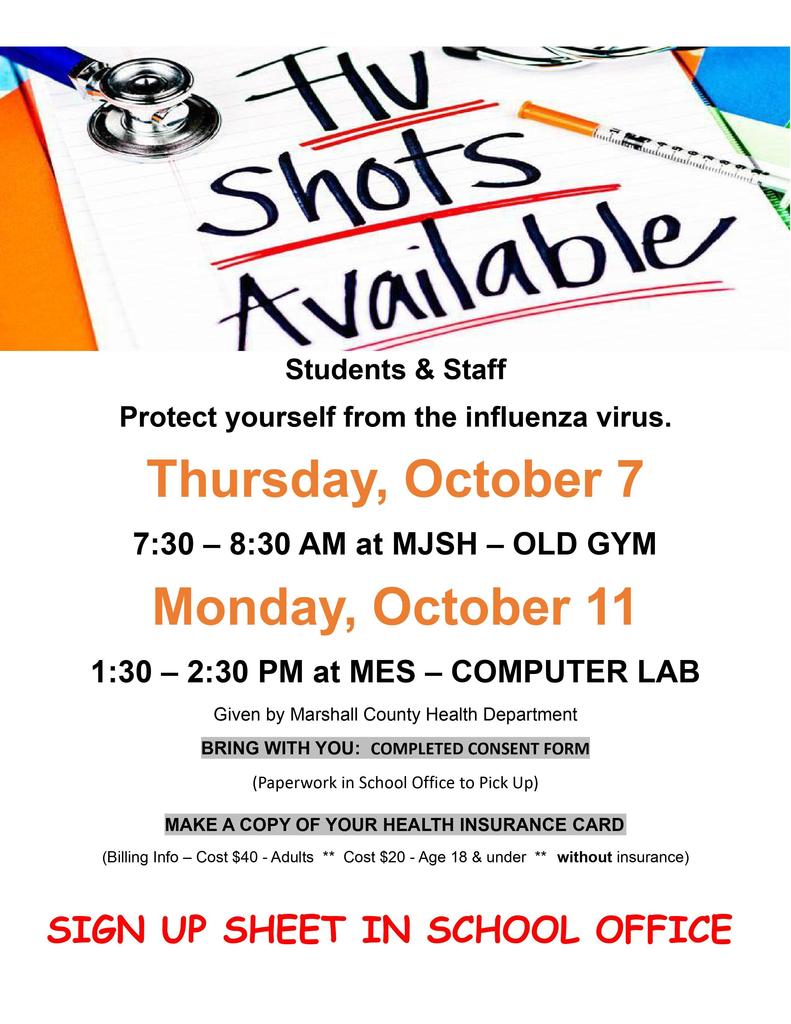 Calendar Reminders: September 27th No School Professional Development Day October 1st School Dismissed at 1:30 for HOMECOMING. Parade begins at 2:00 PM October 8th Calendar change....No School ALL DAY: Professional Development/Workday

The MHS Homecoming Parade will be held October 1st at 2 p.m., followed by a pep rally at the city park. Please see the attached flyer for more information and to register your float! Contact Student-Council sponosor, Jeff Koch (
jakoch@usd364.org
), with any questions.
https://5il.co/z2zn

There will be a pulled pork dinner for Chase Downard on September 17th at 5:00 p.m. in the MJSHS cafeteria. Free will offering.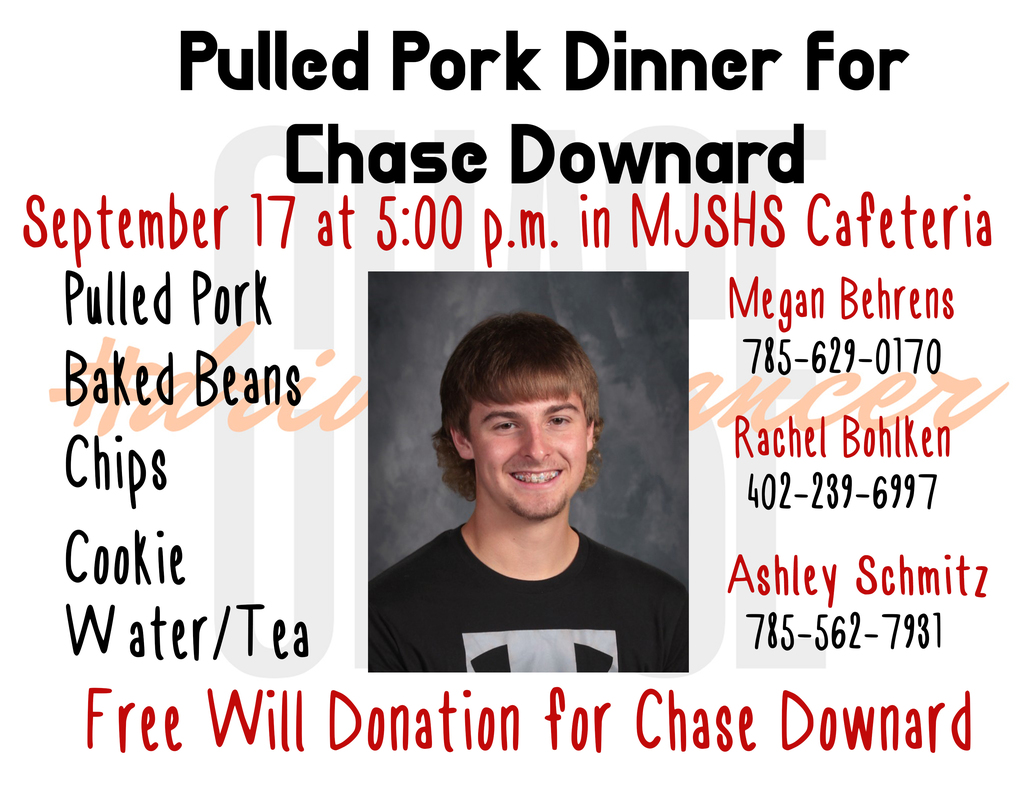 There will be a 5th and 6th grade beginning band parent meeting and instrument display on Wednesday, September 8 at 6:30 p.m., at the High School.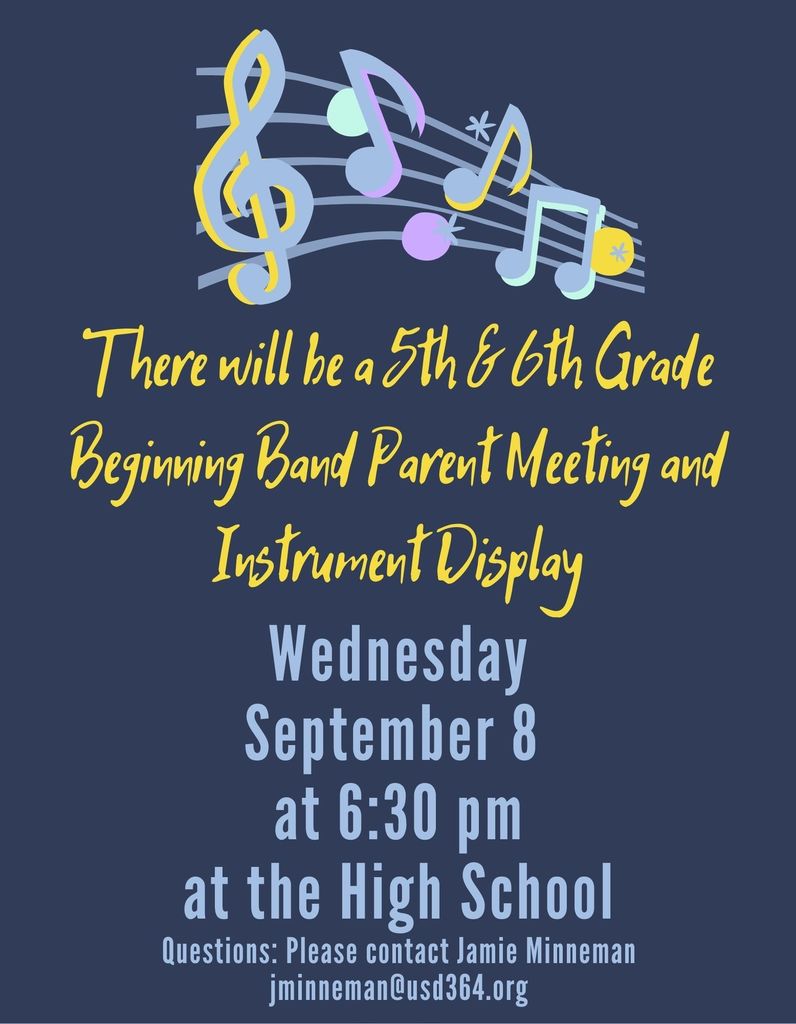 Welcome back to school! We are thankful to have our kids back in school. Please check out this welcome back letter at this link or on the front page of our website.
https://tinyurl.com/2b6mbe2v

Electricity has been restored at the elementary school well before Evergy predicted. Please have a plan in place for situations in the future in case school would need to be dismissed. THANKS!!!

Marysville Elementary is without power for the time being. In most cases, we will be able to continue with instruction with a bit of a distraction. If this is a longterm shortage, we will advise parents of any plans that may need to be made.

There will be a grades 7-12 fall sports parent meeting on Wednesday, August 11, 2021, at 6:00 pm, location TBD. More information will be sent out at a later time. Please keep checking social media.

USD 364 Parents, please see the following letter which shares more information on the Sunflower Summer app which offers many free opportunities for family full all across the state: Please see this link which leads to the letter:
https://rb.gy/bbsjho

Parents, we are getting ready for another school year at USD 364, and your input can lead to our growth and further public satisfaction. PLEASE MAKE TIME to give feedback to this survey presented by USD 364. Thanks again for your help getting through a Covid-19 challenging school year. 2021-2022 is going to be AMAZING!!!
https://forms.gle/rtpzwJEvYP75aWsp9

Here is the body of a previously sent message that many could not open: Thanks for your patience: At a special board meeting on May 10, 2021, the USD 364 board members voted 6-0 to: Highly recommend masks beginning at 6:15 May 10, 2021, by all staff and students but not mandated. It was also decided that visitors are highly recommended to wear masks when entering the building or attending events where children are present. Sorry for the delay this message followed our vocal concert.


USD 364 parents, please read this important message regarding our mask policy. We will be returning to mandating masks on school grounds. This letter gives details. Thank you for your patience.
https://tinyurl.com/3yf6uvat

Thanks to each of you for your patience this year when dealing with all matters related to the Covid-19 pandemic.  Please see the following link to read how the USD 364 mask mandate is being adjusted:
https://tinyurl.com/y7pzcs5a